Pick Your Own Pumpkins
at Union Orchards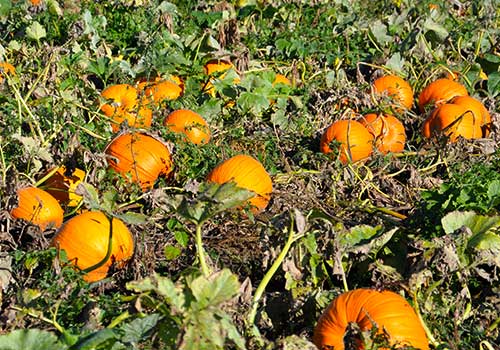 Whether you're seeking the perfect carving pumpkin or a delicious beauty for a creamy pumpkin pie, our patch and farm market has the best selection in the area!
Be sure to visit our large pumpkin patch this fall for an exciting selection of carving pumpkins still on the vine! Our plump pumpkins come in all shapes and sizes and are the perfect fall decor!
Our people mover hay wagon is in operation every fall weekend to transport you to and from the pumpkin patch where you can select your pumpkin.† While riding the people mover, you can see the you-pick apple orchard and our other growing areas.
Pumpkin Pricing
Pumpkins are available for purchase based on weight.
Heirloom Squash & Pumpkins Types
Available varieties vary, but we will have many of the following varieties. Please visit the farm or give us a call to see what is available this year!
Atlantic Giant Pumpkin
Lovely, giant, pink orange pumpkins can weigh over 800 pounds. Introduced from Nova Scotia in 1978.
 
Australian Butter Squash
A large, gorgeous peach-colored squash from ¬ďdown under.¬Ē
It has extra thick orange flesh that has excellent quality. It is perfect for pies and baking. The 15-pound fruit keeps well.
 
Big Max
Huge pumpkins that can grow over 100 pounds. Nearly round, bright orange fruit are stunning and are good for pies and canning. Very thick orange flesh.
 
Blue Hubbard
Huge, teardrop-shaped fruit weighs 15-40 pounds and have sweet, fine-grained, golden flesh. Great for baking, pies, and soups. Stores well. Introduced by Gregory Seed
Company in 1909.
 
Boston Marrow Squash
Lovely 15 pound fruit that are hubbard-shaped. It was first documented in 1831 in Massachusetts. It is thought to have originated from Native Americans near Lake Erie. It is dry, fine grained, and sweet. It was popular in Boston Markets for 150 years.
 
Buttercup Squash
Very sweet, dry flesh of excellent quality. Deep orange flesh with green skin.
 
Chicago Warted Hubbard
This heirloom was developed by Budlong Gardens of Chicago and introduced in 1894. The 13 pound fruits are dusky olive green, deeply wrinkled, and warted, classic Hubbard shape. Fine grained, sweet orange flesh.
 
Galeux D'Eysines
Beautiful heirloom squash that is flattened, round, covered with warts, and weighs 10-15 pounds. The flesh is salmon/peach colored. It is good for baking and popular among the French for making soup.
 
Golden Delicious
A squash, not an apple. Fruits are teardrop-shaped and weigh 7-9 pounds. The rind is brilliant red-orange. Flesh is very smooth, tasty, and orange. This variety was introduced by the Gill Seed Company in 1926.
 
Jumbo Pink Banana Squash
Large, pink, banana shaped fruit can weigh 10-40 pounds. This variety is over 100 years old. Fine flavored, dry, sweet, orange flesh.
 
Marina Di Chioggia
This is the heirloom sea pumpkin of Chioggia, on the coast of Italy. The large turban-shaped fruit are deep blue-green and weigh about 10 pounds each. The rich, sweet flesh is a deep yellow-orange and is delicious baked in pies.
 
Musquee De Provence
These gorgeous, big, flat pumpkins are shaped like wheels of cheese. The skin is a beautiful, rich brown when ripe. The flesh is deep orange, thick, and very fine flavored. This variety originated in southern France and grows to about 20 pounds each.
 
Omaha Pumpkin
This variety was introduced by the Oscar Will Seed Company in 1924, but was grown much earlier by the Omaha Indians. They weigh 3-5 pounds and can be used as Jack o'Lanterns. It is a very sweet variety, but only stores for a few months.
 
Pennsylvania Dutch Crookneck
A popular 19th century Pennsylvania variety still grown in many Amish communities. They can reach 20 pounds in size. The flesh is superb, being deep orange and richly flavored. It is popular with Amish wives for making their delectable pumpkin pies, butters, and other deserts. A good keeper.
Queensland Blue
Popular in Australia, this variety was introduced to the USA in 1932. It is a beautiful blue, turban shaped 12 pound fruit. It has a golden flesh that is sweet and fine flavored. Good keeper.
 
Rouge Vif D'Etampes
Beautiful, flattened, ribbed large fruit. This is a very old variety that was popular in the Paris markets in the 1880's. The flesh is tasty in pies or baked.
 
Table Queen Acorn
Dark green Acorn-type fruit introduced by the Iowa Seed Company in 1913. The small fruits have sweet orange flesh. It is possibly of Native American origin.
 
Turks Cap
A beautiful squash striped in red, orange, green, and white. A very old variety from France (pre-1820). Fine, thick, orange flesh.