Watch Union Orchard Grow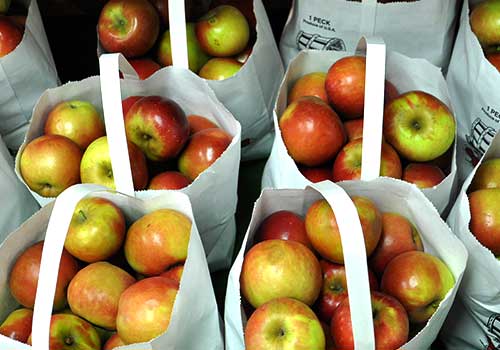 Historically, apple production has been a very important crop in Nebraska. In fact, the early 20th century saw over 2.5 million bushels of apples harvested per year in Southeast Nebraska. Mechanization of agriculture in Nebraska and apple cultivation on the West Coast caused a decline in Nebraska apple production. Even so, the University of Nebraska maintained the "University Fruit Farm" from 1917 to 1961 on the Union Orchard site.
The current apple trees at Union Orchard have been neglected and have become overgrown. This has caused a significant reduction of fruit harvested.
Rejuvenation of the Farm
As a farm, we are aware of social trends that demand a reconnection between people and their food source. Since the purchase of the farm in December of 2011, the WostrelÂ's have begun redeveloping the property into a showcase working farm. Over these years, the WostrelÂ's have:
Planted a block of 5,000 dwarf high-density apples which will be used for you-pick and pre-picked apples. Â 
Planted 2,000 grapevines
300 cherry trees
250 peach/nectarine trees
200 cider apple trees
In the coming years we plan to add:
A you-pick area of 19 varieties, maturing from mid-August through late October.
Grape production for 15,000 bottles per year with 4 varieties of wine grapes.
Production of rhubarb, strawberries, elderberries, peach, nectarines, apricots, and cherries for you-pick and pre-picked sales
Honey production onsite
Construct an event center that can be used for reunions, weddings, craft fairs, etc.
Offer interpretive and gardening information on our "working farm."
Come out to the farm to reconnect with your food supply and agricultural roots!