Pick Your Own Apples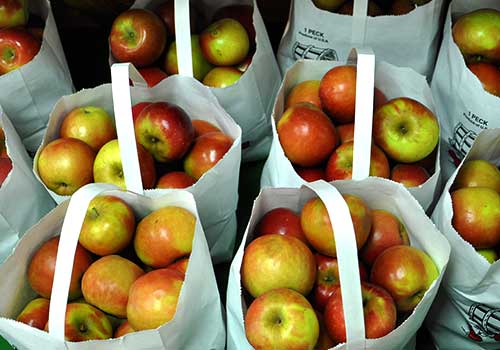 As the fall season approaches our apple orchards on the farm are filled with juicy and crunchy apples! Our wide selection of apple varieties are sure to please the palette!
A pick-your-own apple adventure at Union Orchards is a great way to spend the day outdoors, pick farm fresh fruits directly from the trees, and reconnect with your food source!
Picking from our Orchards
Our people mover hay wagon is in operation every fall weekend to transport you to and from the apple orchards where you can select from apple varieties that are ripe and ready to be picked.  While riding the hay wagon, you'll enjoy a great view of our scenic farm.
Apple Varieties
Be sure to browse our apple ripening section of our ripening calendar to find out when your favorites will be ripe for picking!
Red Delicious
Red Delicious is the most commonly eaten apple in North America. It originated in an orchard in Madison County Iowa in 1880 and was originally called the "Hawkeye." It is best eaten fresh.
Mutsu
The Mutsu was introduced in 1948 and is named after the Mutsu Province of Japan where it was presumably first grown. This large size apple has a sharp/sweet taste.

 
Candycrisp®
The candycrisp is a descendant of the Red Delicious. It has a mild sweetness under a crisp skin.
Ultrared Jonathan
The Jonathan Apple originated in the Northeastern United States in the early 1800Â's. It is a medium sized sweet apple with a strong touch of acid. It has a tough but smooth skin.
Red Jonagold
The Jonagold was developed in New York state and first marketed in 1953. It is a large sweet fruit with a thin skin. It is a crisp fruit that is juicy and aromatic.

Honeycrisp
Honeycrisp was developed by the University of Minnesota and first marketed in 1991. It is sweet, firm, and tart making it an ideal apple for eating raw. It has a long shelf life when stored under cool dry conditions. It is the State Fruit of Minnesota.
Zestar
Developed in Minnesota in the late 90s, this early ripening apple has a crispy and light flavor perfect for pairing with walnuts, cinnamon, and brown sugar!
Blondee
This early ripening Gala variety grows to a nice average size and boasts a slight honey or green banana taste.
Starkspur® Winesap
With a spicy/tart flavor, Starkspur Winesaps have been compared to having a wine like taste. These great, all purpose apples are a crowd favorite and ripen later in the year.
LindaMac®
LindaMac® has a good, sweet flavor with an attractive McIntosh appearance. These apples grow to an average size and have a medium-red hue.
Snowsweet®
Developed in Minnesota, Snowsweets are a satisfyingly sweet and slightly tart apple with a snow white flesh. It's juicy interior and crisp exterior make it a great apple for fresh eating!
Cortland
Cortlands are an older American variety of apple similar to the McIntosh. It's bright red skin hides a crisp and exceptionally juicy sweet/tart flavor.
Royal Empire
This New York native variety have a firm and crunchy skin with a sweet flesh. Enjoy these apples in fresh salads, sauces, pies and more!
 
Arkansas Black
These dark red apples has a notable crunchy flesh, tart taste, and is excellent for several months after picking if stored in appropriate conditions!

Enterprise
Enterprise apples are a tart and crisp fruit that are great for cooking! They also produce very colorful sauces and are great for apple juice!
September Wonder Fuji
Fuji apples are the fourth most commonly eaten apple in the United States. It originated in Japan and was brought to market in 1962. It is a large apple with dense flesh and has a very long shelf life. It has a dense flesh and is sweeter and crisper than many apple varieties.
Brookfield Gala
Gala ranks as the third most consumed apple in the United States. It originated in New Zealand in the 1930Â's. It became popular in the 1980Â's. It is a small apple and usually red with some yellow-green coloration. It has a thinner skin than most apples. It is a firm, crisp, and sweet apple.
Ultragold
Ultragolds are a crisp and juicy apple with a mellow, honey flavored flesh. These long-lasting, all-purpose apples are good for snacking and cooking!